This past Monday August 12th, the Getty Museum announced their "
Open Content Program
to share, freely and without restriction, as many of the Getty's digital resources as possible." This means that they have put up around
4,600 high-res images
that are "free to use, modify, and publish for any purpose." As someone who loves to root through the archives myself, I could not be happier to hear about this decision and spent a number of hours meandering through their online collections focusing in particular on their photographic archives.
I was extraordinarily pleased to see that not only are high-res images included and the meta-data, but the photographs are often accompanied by a descriptive paragraph or so explaining the importance of the work, or the background, or framing it in a wider context. These short descriptions allow and foster a greater appreciation for the works, and I'm impressed with their quality as well as the wide ranging variety of examples chosen.
In their article, the Getty Museum explains why they chose to move towards open access,
This move is also an educational imperative. Artists, students, teachers, writers, and countless others rely on artwork images to learn, tell stories, exchange ideas, and feed their own creativity. In its discussion of open content, the most recent Horizon Report, Museum Edition stated that "it is now the mark—and social responsibility—of world-class institutions to develop and share free cultural and educational resources." I agree wholeheartedly.
They've hit the mark when it comes to education, using images to share stories and making history more accessible. I'm looking forward to when Canadian museums start to follow this approach (though the Canadian Heritage Information Network (CHIN)'s
Artefacts Canada
is a good start) as there is a wealth of information out there and sharing it will only foster more research and greater exchange of ideas.
And now for my top ten favourite photographic works in chronological order that I have came across so far during my look through the Getty's collection (I admit it was terribly hard narrowing it down to 10).
1. Daguerreotype Copy
Source,

Unknown

American,

about 1848,

Daguerreotype,

2 5/8 x 2 1/16 in. (

84.XT.1568.7)
Since the

daguerreotype

process did not involve a negative, the plate could only be copied by rephotographing it. Although the process was difficult and fairly cumbersome, it was highly profitable. Multiple copies of famous people were widespread, and families often required duplicates for their relatives.
This daguerreotype plate reveals the manufacturer's name: Edmund White & Co. of New York, the largest plate maker in America in the 1840s. Also visible, stamped in reverse along the bottom edge of the plate, are the words "Best Quality Art."
2. Portrait of an American Youth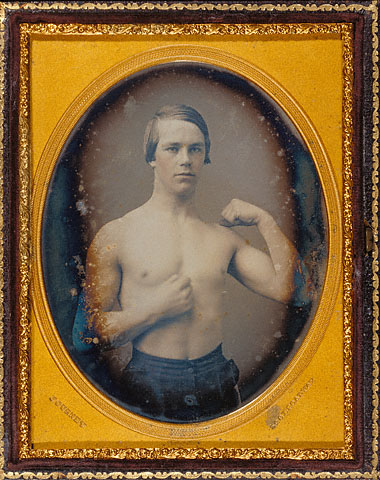 Source, Jeremiah Gurney,

American, 1852 - 1856,

Hand-colored

daguerreotype,

3 7/16 x 2 3/4 in. (

84.XT.1564.27)
The bare chest and flexed biceps of this young American man might be interpreted as a metaphor for the strength, vigor, and optimism of America in the 1850s. Striking a pose of physical prowess yet exuding youthful vulnerability, the would-be pugilist awkwardly curls back his left fist in a gesture that almost suggests a battle with himself. His elongated neck makes his head seem nearly detached, hovering above his pale torso. The distinct, faint tan line across his neck and shoulders may betray his social class by indicating that he labored outdoors.
3. Spiritualism
Source,

William Mumler,

American, about 1861,

Albumen silver print (

84.XD.760.1.7)
The Spiritualist movement was founded on the belief that the human soul exists beyond the body and that the dead could communicate with the living. This concept developed in the 1850s and gained momentum in the United States after the Civil War. Mumler claimed to be able to photograph the spirits of departed loved ones. Although his methods were never disclosed, he made ghostly images by incorporating an existing picture of the deceased into a new photograph he made of the surviving relative. His eight-year-long activity was marked by highly publicized civil court trials for fraud.
4. Photo-collage
Source,

Unknown

British, 1870s,

Collage with pen, ink, and albumen silver print (

84.XA.1252.2)
This album offers a particularly original presentation. An unknown skilled amateur cut out individual figures and faces, arranging and pasting them onto his drawings. The realistic quality of the subjects contrasts with their fictional settings, the whole resulting in humorous

tableaux vivants

(living pictures).
5. Differential Action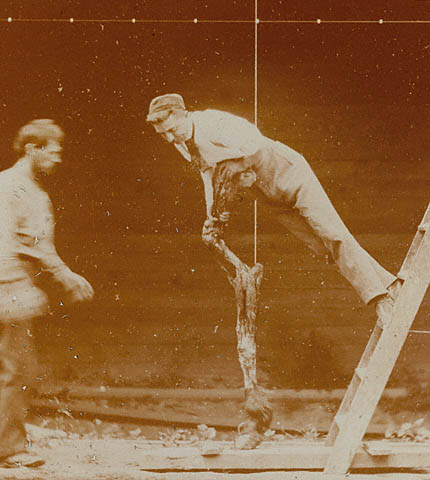 Source, Thomas Eakins,

American, Pennsylvania, 1885,

Lantern slide,

1 11/16 x 1 9/16 in. (

84.XM.201.25)
Thomas Eakins' investigations into motion grew out of Eadweard Muybridge's animal locomotion project at the University of Pennsylvania. Eakins assisted Muybridge in finding models for his motion studies, and, erecting a separate shed on the campus, Eakins began to conduct his own experiments. This photograph is one of a series of what Eakins called "differential-action" studies, which culminated nine years later in a lecture entitled "The Differential Action of Certain Muscles Passing More than One Joint." This lantern slide image was probably used as a projected illustration during the talk. In order to demonstrate the tensile strengths of a horse's muscles, the man on the ladder balances his weight on the horse's skinned hind leg.
6. Expressive Georgia O'Keefe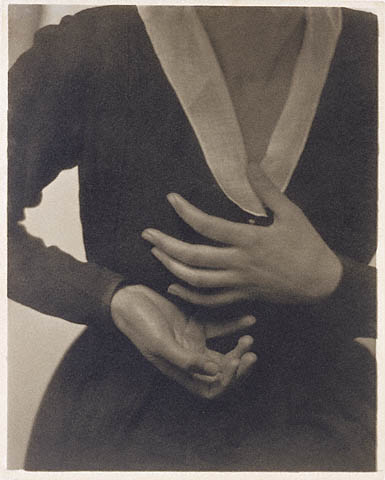 Source, Alfred Stieglitz,

American, June 4, 1917,

Platinum print,

9 5/8 x 7 11/16 in. (

91.XM.63.3)
[Georgia O'Keeffe] is much more extraordinary than even I had believed--In fact I don't believe there has ever been anything like her--Mind and feeling very clear--spontaneous--& uncannily beautiful--absolutely living every pulse beat.
Early in Alfred Stieglitz's relationship with O'Keeffe he wrote this adulatory description of her to a friend. Stieglitz made this expressive study of O'Keeffee's nearly dancing hands and her torso, dressed in a crisp black dress with a sheer, voile shawl collar, reminiscent of the one she wore when they first met at his gallery. O'Keeffe, by then already an accomplished painter, expressed herself eloquently through her hands, and Stieglitz recognized their emotive potential.
7. The Dancing Faun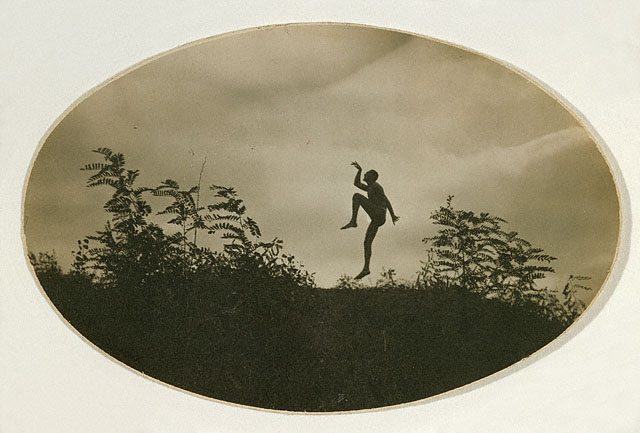 Source, André Kertész,

American, Hungary, 1919,

Gelatin silver print,

2 3/16 x 3 5/16 in. (

85.XM.259.18)
We were "sportive," we three brothers.... We went swimming, running, mountain climbing--everything.... [Eugenio] had the body of the good athlete that he was and a fine head for a faun.

-- André Kertész
Sixty years after this photograph was made, André Kertész recalled his life in Hungary with his two brothers, Imre and Eugenio, the latter the model in this photograph. Kertész transformed the silhouetted form of his brother leaping dramatically between leaves of foliage into a mythical creature of fairy tales. The oval trimming of the print creates a precious miniature, contributing to the photograph's whimsical quality.
8. Man Ray's Woman Smoking a Cigarette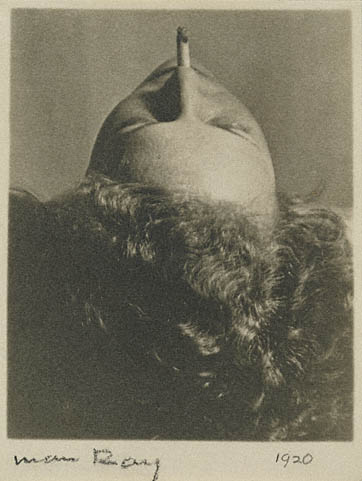 Source, Man Ray,

American, 1920,

Gelatin silver print,

3 3/8 x 2 11/16 in. (

84.XM.1000.43)
Made in the same year that suffragettes won the right to vote in the United States, this photograph flouts convention by showing a woman smoking, with her head thrown back in abandon. Man Ray's equally daring composition shows the model from an unusual vantage point, with the image centered on the crown of her head.
9. My personal favourite, the marchesa Casati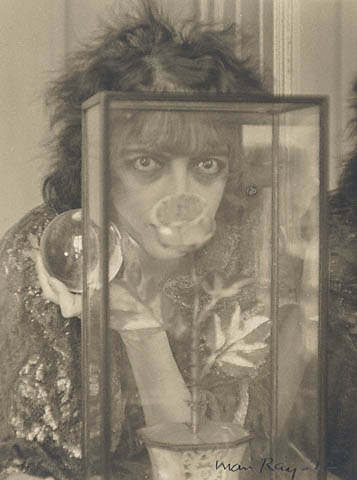 Source, Man Ray,

American, 1922,

Gelatin silver print,

4 11/16 x 3 1/2 in. (

84.XM.1000.136)
One of Man Ray's early commissions as a photographer was to make a portrait of the Italian-born Marquise Casati, a free-spirited aristocrat who lived much of her life in France and whose personal style involved disheveled hair and raccoon-like eyes. In this portrait, the Marquise is visible through the panes of a display case holding an exotic artificial plant. She performs for the camera, appearing as a kind of gypsy sorceress with her lacy shawl and crystal ball, in which the photographer's reflection is visible. She forms a part of a still life, herself a curiosity as much as the objects on display.
10. The Olly and Dolly Sisters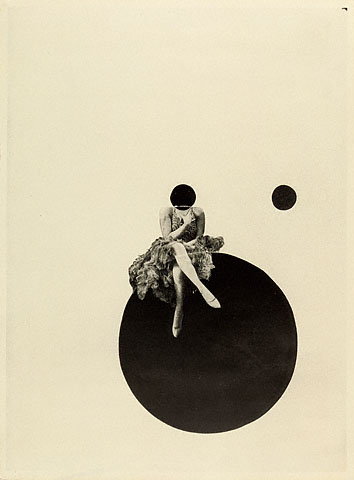 Source, László Moholy-Nagy,

American, born Hungary, about 1925,

Gelatin silver print,

14 3/4 x 10 13/16 in. (

84.XM.997.24)
A floating circle, a common

motif

in László Moholy-Nagy's work, is a dominant, repeated form in this composition: one superimposed over the face of a human figure, a second substituting for another body, and the final and largest circle serving as the foundation upon which the figure perches. The detailed opulence of the plumed skirt cascading around the woman's body contrasts with the empty void of the black sphere obliterating her face and thus her identity.
The title refers to the identical twin Dolly Sisters, Jenny and Rosie, who were a dance team popular in Europe and the United States from 1911 to 1927. They appeared at the Moulin Rouge in Paris and the Ziegfeld Follies in New York, and spent their final years in Los Angeles. They were renowned for both their beauty and their gambling prowess.